In 2019 and Beyond Your Online Business
Won't Survive Without Authentic Video Testimonials.
Sure, facts and figures, big claims, or proof of your results are great, but that's no longer enough.
Whether it's buying a gift on Amazon or choosing a dentist, people need to see reviews and see the product before they decide to buy.
Did you know…
"Prospective customers will read an average of 10 online reviews
before they feel they can trust a local business"

- Bright Local

"Displaying reviews can now increase conversion rates by 270%"


- Spiegel Research Center

"Experts believe that online reviews now make up over 13% of how
Google and YouTube rank local search results"

- Chatmeter
But in 2019, Even When People Do Read Your Reviews… They
STILL

Don't Believe You!

In 2019 online shoppers are far savvier and have realized businesses buy fake reviews as detailed in an article by Forbes:
In fact…
FACT #1
According to a study by Ipsos, customer trust of reviews is down significantly with 37% of people trusting brands less than they used to.
FACT #2
Plus, it's estimated that 15% of online reviews, in general, are faked now!
Be honest, which of these reviews would you believe was real?
Review A:
"I love Vidmonial 2.0. You're doing great. Keep up the good work."— Rachel G.
Of course, the

answer is review B!
WHY?
Because it's a real person and you're hearing it directly from their mouth!
It's more engaging. It's more emotional. It's more believable.
It's just more persuasive. That's why Hubspot reports that 64% of customers are more likely to buy a product after watching a video about it.
But, for most businesses...
Getting Video Testimonials
is

Time Consuming Work
Normally you have to...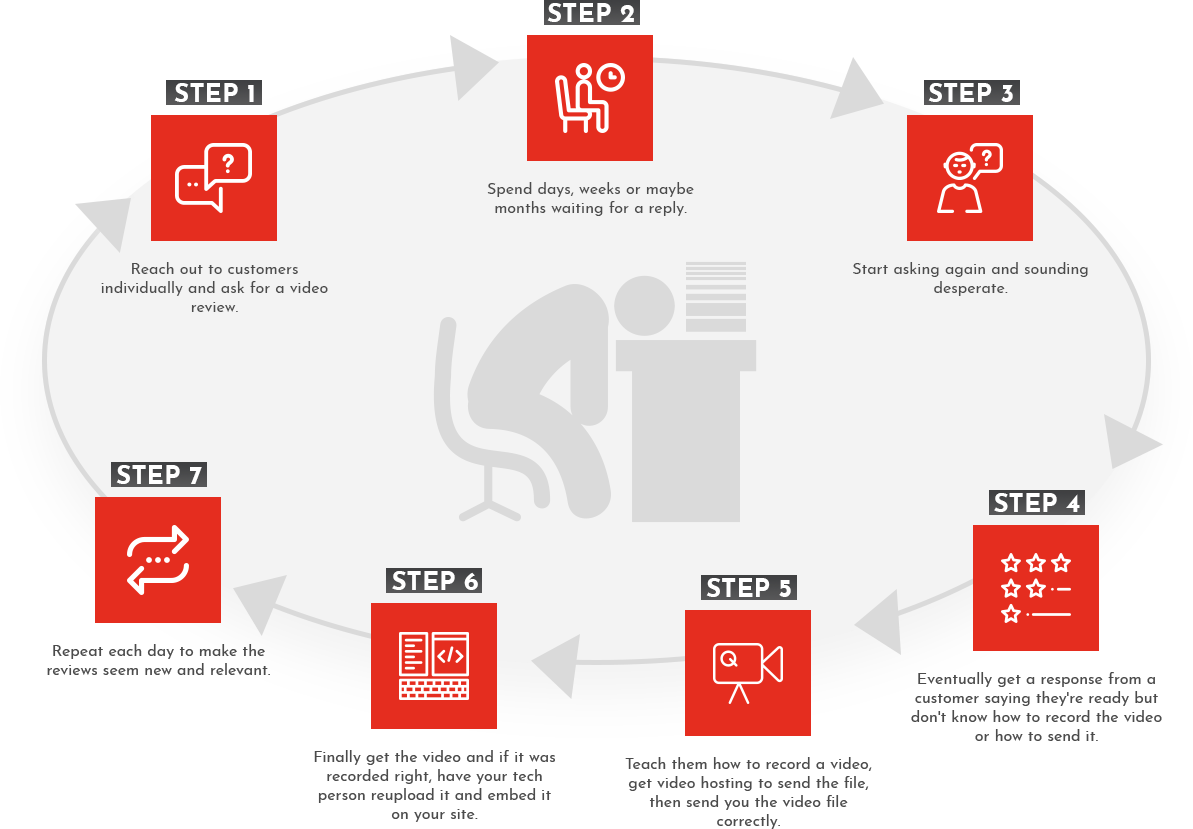 Remember, even if your customer had a great experience with your product,
people are just too busy today to drop everything their doing and do something for you.
So How Do You Get an

Endless Supply

of Video Testimonials
to Convert and Drive Traffic?
That's the exact problem we faced last year and ended up creating Vidmonial 1.0.
While this first beta version got lots of positive feedback, we knew there were tons more than needed to be added to really make this a serious SaaS tool.
That's why after a year of listening to customers, coding, and testing, we're proud to introduce...
Vidmonial 2.0
The fastest, easiest way to collect, display, and drive traffic with video testimonials anywhere online - for you and clients you work with.
Vidmonial 2.0 expands upon the initial, little video capture tool we created and transforms it into an entire video marketing review suite that captures, edits, syndicates, and markets both video and text testimonials all-in-one.
Transform Your Business with the Power of Video in Just
5 Simple Steps:
01.

Incentive Buyers of Any Product to Leave a Review
You can incentivize customers of your products, your clients, or someone else's if you're an affiliate to leave a video testimonial in exchange for a bonus, guide, coupon code, or any other incentive you want.
02.

Customers Record The Review Quickly Via Desktop or Mobile Now
Vidmonial 2.0 makes it easy in 1-click for the user to record the testimonial through their desktop or now through mobile if they are in a hurry. You can also choose to allow them to leave a text review and give star ratings.
03.

Review and Testimonial and Edit the Video
Then, review the testimonial and edit it in the new Video Wizard. Transform it from a borning video to a solid marketing piece with custom CTAs, graphics, text, music and more you can share around the web.
04.

Market the Video with Display and Widget Technology
Then, embed your video using brand new templates or showcase it, along with other similar product reviews on the new Vidmonial 2.0 Social Proof Widget to quickly begin increasing conversions.
05.

Syndicate Around the Web for Traffic and Fresh Leads
In just a click, you can share the testimonial to tons of social networks for traffic and fresh leads. Now, instead of slaving away creating the videos yourself just have customers create them FOR you to use in your sales pages, blogs, Facebook ads, YouTube channels, and more.
SOLVED: Embedding video on your website is proven to increase organic traffic from Google by 157% and videos on social media generate 1200% more shares than text and images combined!
With Vidmonial 2.0, you can share your video testimonials in just a few clicks to Facebook and YouTube to rake in free traffic.
Plus, download your video to use in Facebook ads like these…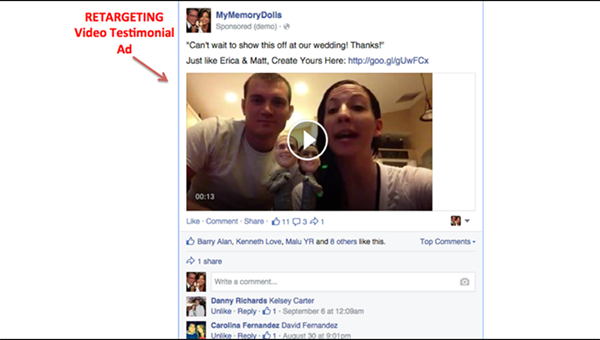 ...as video testimonial posts and ads are among the highest converting and best-performing marketing assets today.
In fact, check out traffic we've driven with just one Vidmonial 2.0 video testimonial
Facebook post:
SOLVED: 63% of consumers say they're MORE LIKELY to purchase from a site that has product ratings and reviews.
Use Vidmonial 2.0 to boost trust and sales, and attract more people who are searching for real, honest reviews.
In fact, check out the stats for a recent affiliate promotion we used with Vidmonial 2.0 video testimonials on the page and in ads:
Plus, video testimonials from Vidmonial beta helping launch new, unproven products like this launch we made $85,209 essentially from scratch:
SOLVED: We're in an age where a cold visitor is no longer willing to part with their personal information in exchange for a lead magnet or bribe like they used to.
If you've ever put up squeeze pages or popups, you know how low optin conversions can be today.
However, by adding video testimonials to our squeeze pages and even embedded in popups, we were instantly able to increase trust with a cold lead and significantly build our list.
Check out the thousands of subscribers we were able to get from cold traffic with Vidmonial 2.0 video testimonials on our optin page.
SOLVED: Vidmonial 2.0 takes care of the review getting process so you don't have to. In a few quick clicks, you'll create a dedicated review page, ready to collect video testimonials…
… and automatically deliver bonuses to people who leave their review. It doesn't get any easier or quicker than this!
Watch How Easy it is to Profit from Vidmonial 2.0 in this Demo:
Brand New Upgraded Features Include:
100% Compatible with Mobile
Our most requested feature is now available in the 2.0 version. Now customers can record Vidmonials on the fly using only their phone if they choose for much higher conversion rates and more authentic looking testimonials.
Simple Video Wizard Editor
Turn regular video testimonials into valuable pieces of marketing material that help generate traffic and sell products. Load any Vidmonial into a very easy to use video editor to add custom CTAs, graphics, background music, and more.
Text and Video Reviews Social Proof Widget
Collect text and video reviews all for a specific product and showcase them all-at-once in a customizable widget to skyrocket social proof and conversions.
More Video Display Options
Make your Vidmonials look AWESOME on any page you want with brand new video embed templates. Choose from 4 new ways to embed your testimonial so it fits your sales page style and layout.
Capture Only Video Reviews, Text Reviews, or Both
Just want to run a regular text review capture campaign? No problem. Choose if you want to capture only video reviews, only text reviews, or both with more advanced campaign options now.
DFY Customizable Bonus/Thank You Pages with Easier Bonus Access
Instead of just an email link, create a full bonus page that includes your promised downloaded as well as the opportunity to further interact and engage with the user who left the testimonial.
Syndicate to Many More Social and Video Networks in a Click
Now you can share your Vidmonials on far more social networks to drive traffic to your offers and build your brand.
1-Step Mobile Video Capture Pages
Vidmonial 2.0 replaces the low converting 3-page video capture campaign with a single, fast loading page for much higher conversion rates.
Show/Hide Captured Testimonial
Got negative or unfair feedback from a customer? Learn how to improve your product by watching the video, then hide it if you choose in your Social Proof Widget campaign for high conversions.
And Even More Features:
Create "Set-and-Forget" Testimonial Generating Cloud Campaigns
Create campaigns fully hosted with Vidmonial that capture video testimonials and deliver incentives for doing so on 100% autopilot - nothing to install or code
Live Video Capture Technology
Let visitors easily record themselves giving the testimonial through campaigns fully hosted by Vidmonial 2.0.
Display Video Testimonial Boxes Anywhere You Want
Showcase your video testimonials in stylish boxes on any page you want - works with Shopify, HTML, Wordpress, Clickfunnels, etc.
Capture Star Ratings an Written Feedback
Along with video testimonials, capture star ratings, profile pictures, and written feedback to showcase for higher conversions
Commercial Rights to Sell a 100% Unique Service
This is an exciting opportunity, especially for users who have already bought video marketing apps since every business big or small needs more video testimonials.
No more making the video yourself

- get an endless supply of videos to use on your sales pages and drive traffic with other people create.

No camera equipment, mics or fancy studios

- customers can create and submit their video reviews inside one single screen.

No begging or waiting for reviews

- offer an awesome bonus and you'll attract plenty of people who can't wait to leave their video review

No more notepads, excel sheets, or word docs

- Vidmonial 2.0 effortlessly gathers, saves and publishes your reviews from the cloud
Zero learning curves
Set up a new campaign in seconds, without any tech skills. Start collecting awesome video reviews on autopilot, and publish them with a simple line of code, or download the videos and share anywhere online!
Multiply your sales
Video is proven to convert more visitors into customers. Use the power of social proof and engaging video to effortlessly seduce people into buying your products or services.
100% success guarantee
Convert more traffic into customers, or make more money offering this as a service to other businesses, or your money back.

No monthly fees or hidden "gotchas"
Get access today for a one—time only fee, before we close the doors!

No advertising budget required
Everything you need to start getting free traffic using video content is included

No technical skills
Convert more traffic into customers, or make more money offering this as a service to other businesses, or your money back.
"I an firmly state this is an excellent tool for my business and I really love it... I already got a few testimonials after a little bit of work" - Heather
Real Vidmonial User
"I've used a lot of softwares over the years and am extremely impressed with the feature set of Vidmonial 2.0, more importantly, it's dead simple to use..." - Clayton.
(Real Testimonial Captured by Vidmonial)
Whatever Business You're in,
Vidmonial 2.0 Makes it

Easier than Ever

to Convert Traffic into Customers…
Offline consultants

- Now you can get paid big bucks to create video testimonials for local clients, the easy way. Plumbers, dentists, real estate agents, lawyers, gardeners — every single local business in your town or city needs as many reviews as possible. Now you can be their hero, helping them gather, publish and share awesome video reviews that they've never been able to get before!

eCommerce

- Imagine how many extra sales you'd make with a bunch of video reviews, featuring your customers using your product… holding it in their hands, and telling the world how awesome it is! Just send your customers to your review page, and Vidmonial 2.0 will start collecting these video reviews for you, handsfree.

Social marketers

- Syndicate your video reviews to Facebook and rank in YouTube. Tap to download your best video reviews from your Vidmonial 2.0 dashboard, and then share away for more traffic, more trust, and more sales!

Product launchers

- Watch your next launch explode with more sales than ever, thanks to the proven power of video testimonials. Bump your conversions, attract more affiliates, and blow your profits through the roof with one of the most powerful sales tools you can add to your website… smoking video testimonials that people trust and buy from!

Affiliates

- Get the ultimate edge over other affiliates and out convert them. Reach out to people who've already bought the product you're promoting: in a Facebook group or on Reddit, then use their testimonial in your promos for higher EPC and drive the traffic with
Don't Forget You're Getting the

Commercial Rights

Today as Well

Both local and online businesses already know reviews are critical for getting new customers.
Dentists
Plumbers
Restaurants
Mechanics
Lawyers
Accountants
eCom Shops
Blogs
Real Estate
Locksmiths
Car Dealerships
Now is your chance to help deliver a review gathering service they desperately want and need and get paid big bucks for it.
With Vidmonial 2.0, you can gather powerful video reviews, text review feedback, and star ratings for your clients, getting paid $100's per day selling a service that actually helps them and is easy for them to understand.
This is something no one's doing now and is far easier to sell than explaining how SEO or video ranking works to a Pizza store owner who can't even use Facebook.
And it gets even better…
Biz Owners Need You to Gather a

Regular Supply of Reviews,

Too!
According to research, 69% of consumers believe that reviews older than 3 months are no longer relevant.
You know what that means?
It means your local clients need a regular supply of fresh reviews for their business to keep customers coming through their doors

That's a regular supply of paychecks for you month after month with the ability to charge a monthly fee and collect paychecks almost hands-free.
Look in your newspaper…
and you'll see dentists, chiropractors, plumbers, real estate agents spending big bucks to reach new customers.
Guess what those customers will do first? Yep, they check reviews online.
Local biz owners need powerful video reviews to thrive in 2019 and beyond…
… and there are thousands of businesses in hundreds of different industries in your local towns and cities who need your help getting them and will pay a big monthly fee for reviews delivered each month.
Think About the Money Your Losing Buy NOT Investing in Vidmonial 2.0
We've already seen the stats — video testimonials blow sales through the roof, over and over again.
What if you could boost your conversion rate by just 1%?
How many extra sales would that mean for you?
Another 2, 3 or even 5 sales per week?
That could be a few hundred bucks per week or a LOT more depending on the price of your product.
Either way, the truth remains…
The world loves video…
and it's proven to outsell any other type of content.
So if you're not using it to leverage free traffic and blow up your conversions, you're missing all the fun.
Zero learning curves
Set up a new campaign in seconds, without any tech skills. Start collecting awesome video reviews on autopilot, and publish them with a simple line of code, or download the videos and share anywhere online!
Multiply your sales
Video is proven to convert more visitors into customers. Use the power of social proof and engaging video to effortlessly seduce people into buying your products or services.
100% success guarantee
Convert more traffic into customers, or make more money offering this as a service to other businesses, or your money back.

No monthly fees or hidden "gotchas"
Get access today for a one—time only fee, before we close the doors!

No advertising budget required
Everything you need to start getting free traffic using video content is included

No technical skills
Convert more traffic into customers, or make more money offering this as a service to other businesses, or your money back.
So, How Much is Vidmonial 2.0 Worth?
What if you could instantly double the conversions on your sales page? Or drive twice the amount of traffic from YouTube or Facebook?
How much would that be worth to your business? Well, that's exactly what Vidmonial 2.0 is going to allow you to do.
To be honest, software like this that solves a huge problem every single business has, both big and small, should easily sell for $27 to even $97 PER MONTH.
That comes out to $1164 per year.
However, you won't have to pay anywhere near that as a special discount today only.
So, What's the Catch Then?
The heavily upgraded version of Vidmonial 2.0 allows you to create, store, and embed video testimonials and fully host your campaign all on our server.
This comes at a significant cost to us so to stay profitable and maintain the software long term, we can't allow this to be sold at such a big discount much longer or we'd not be able to profit.
This is your one and only chance to get no monthly fee access to Vidmonial 2.0 at the huge discount we're currently offering.
The price will increase every few hours to reward early action takers, then the price will switch to monthly fee once this initial launch of Vidmonial 2.0 has ended.
We hate being "pushy" but, please don't delay… there will be no false scarcity and the price WILL rise so act now.
Plus, Get These Amazing
"Fast Action"

Bonuses Today
Resell Rights to Launching Soon Software
Use this when launching a new business or putting your site in maintenance mode to capture visitors and build a list.

Get 15 beautifully designed interactive "coming soon" templates.
Google Maps Creator
Simple, light-weight and non-bloated Google Map Plugin for WordPress. Clients need maps of their store on their site and this is an EASY way to set it up fast for profits.
Premium Stock Video Collection with Whitelabel Rights
This big bundle of 100 Live Footage Videos were shot in full HD and are excellent quality.

They show a huge variety of different scenes with people eating, shopping, cycling, enjoying their day and going about their daily business. Incorporate these into your own video projects, or videos for your clients.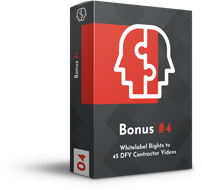 Whitelabel Rights to 45 DFY Contractor Videos
Do whatever you please with these 45 pro 'offline' based videos. Rank them, rent them out, or sell together!

Includes niches like: Air Conditioning, Cleaning Services, Carpenter, Gutter Contractor, Handyman, Heating Contractor, Hvac Contractor, and more
Resell Rights to Video Marketing Graphics Pack
Make Your Videos Look Awesome With This Brand New Set Of Premium Video Graphics! If you do any sort of marketing online with videos, listen up!

What I have for you on this page is a brand new set of graphics and templates that will help make your videos stand out and look awesome.
Whitelabel Rights to Powerful Local Real Estate Theme
Get this proper real estate website that makes a customer's search as easy as possible.

The design is intuitively understandable, and includes a simple search box, showcase a wide range of the real estate items available and makes your agency look professional and trustworthy.
You're Fully Covered

by Our Video
Traffic 30-Day Sales-Boosting Guarantee
I want you to use Vidmonial 2.0 right now and over the next 30 days see how quick and easy you can start getting free traffic.
See how easily you can convert cold traffic with your new video testimonials.
See how much easier ads and traffic will come now that you have more proof in your marketing campaigns.
AND I GUARANTEE, if Vidmonial 2.0 doesn't help boost your traffic and sales within 30 days or sooner, you won't pay a single dime.
Instead, we'll refund every penny, no questions asked.
Just go to our support desk, open a ticket, and say "I want a refund" and in short order you'll get just that.
You can only make such a guarantee when you know your product is HIGH QUALITY and actually solves a huge problem.
Don't Put Your Business at Risk

- Act Now and Secure Your License

As I said before, if you don't have authentic video testimonials your business is going to suffer immensely this year and beyond. We're at an age of more transparency and video testimonials have become a must-have for you and your clients.

Can you afford... to waste precious time and money manually trying to get video testimonials the hard way?

Can you afford... missing out on profiting from such an easy and in-demand product to sell as a service?

Can you afford... to miss out on the extra conversions, traffic, and income you'll get from even just one extra video testimonial?

Go ahead now and secure your license before the next price increase.

Click the button now, and we'll see you inside the Vidmonial 2.0 members dashboard.
Vidmonial 2.0 Commercial Founders' Special
Today Only $197.00 Just a One-Time Payment of:
Your low investment is protected by a 30-day money back guarantee
To Your Success,
Bravinn Technologies
Radu Hahaianu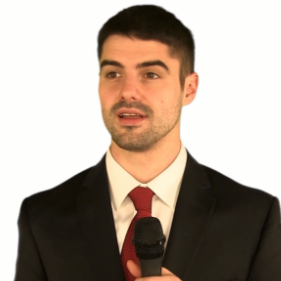 Ben Murray
FAQ:
Q:

Is this a monthly fee app and am I getting support?

Vidmonial 2.0 is currently being offered for no monthly fees only through this deal. You'll get full access to to everything you see here today for the price listed above. And yes, we have full tutorials plus support if you ever have questions or concerns
Q:

What all am I getting with my purchase?

With Vidmonial 2.0 Commercial you can use for your products and clients. Today you'll get all features showed on the sales page with the ability to capture 1000 testimonials per month, run 500 campaigns at a time, and create 500 bonuses at a time. There will be an upgrade available if you want to run more campaigns and get more testimonials.
Q:

What If I Haven't Bought the 1.0 Version of Vidmonial Yet?

Please note this page is only for Vidmonial "Founders" who've previously purchased the software. If you are a brand new user please navigate to https://vidmonial2.com/special and buy there or your account will not be set up right. As a Vidmonial 2.0 founder, you'll get special discount to the 3.0 version just as 1.0 users got for the 2.0 version.
Q:

Does this work for Mac and PC?

Vidmonial 2.0 is 100% cloud-based so it works with an internet connection on any browser, although we recommend using Google Chrome. To record the testimonial the user just needs a webcamera on their laptop or desktop computer. Alternatively, they can also upload a video from their phone to YouTube and integrate into Vidmonial 2.0 that way, too.
Q:

Can I think about it and return later?

As stated, this is a one-time special offer. If you leave and return we can't guarantee it will be available for the same price or available at all. If you want access it's best to claim it right now by clicking the button.
Get Commercial Access and Special to Vidmonial 2.0 and Discount Now
Your low investment is protected by a 30-day money back guarantee