Get Autopilot Video Reviews

- Collect video testimonials on full autopilot in the cloud & mobile. Nothing to setup or install.

Easy Video Editor

- Add graphics, CTAs, BG music & more to turn your captured into great marketing content

Bonus Creation & Delivery

- Incentivize and reward anyone who leaves a video review with an ethical bonus handsfree

Sell to Clients

- Get Commercial Rights to generate video testimonials for clients, an easy sell that every business needs more of

Syndicate For Traffic

- Embed your videos anywhere w/ social proof widgets & syndicate to popular networks for traffic in a click.
"We've been testing it for a while...and already captured as many video testimonials as we did in the last 2 years of trying." -Brent
(Real Testimonial Captured by Vidmonial)
"This app is an extremely simple, benefical tool to any marketing arsenal... it's very easy to get testimonials in a few clicks." - Cheyanne
(Real Testimonial Captured By Vidmonial)
Getting Video Testimonials
is

Time Consuming Work
Normally you have to...
Remember, even if your customer had a great experience with your product,
people are just too busy today to drop everything their doing and do something for you.
So How Do You Get an

Endless Supply

of Video Testimonials
to Convert and Drive Traffic?
That's the exact problem we faced last year and ended up creating Vidmonial 1.0.
While this first beta version got lots of positive feedback, we knew there were tons more than needed to be added to really make this a serious SaaS tool.
That's why after a year of listening to customers, coding, and testing, we're proud to introduce...
Vidmonial 2.0
The fastest, easiest way to collect, display, and drive traffic with video testimonials anywhere online - for you and clients you work with.
Vidmonial 2.0 expands upon the initial, little video capture tool we created and transforms it into an entire video marketing review suite that captures, edits, syndicates, and markets both video and text testimonials all-in-one.
Transform Your Business with the Power of Video in Just
5 Simple Steps:
01.

Incentive Buyers of Any Product to Leave a Review
You can incentivize customers of your products, your clients, or someone else's if you're an affiliate to leave a video testimonial in exchange for a bonus, guide, coupon code, or any other incentive you want.
02.

Customers Record The Review Quickly Via Desktop or Mobile Now
Vidmonial 2.0 makes it easy in 1-click for the user to record the testimonial through their desktop or now through mobile if they are in a hurry. You can also choose to allow them to leave a text review and give star ratings.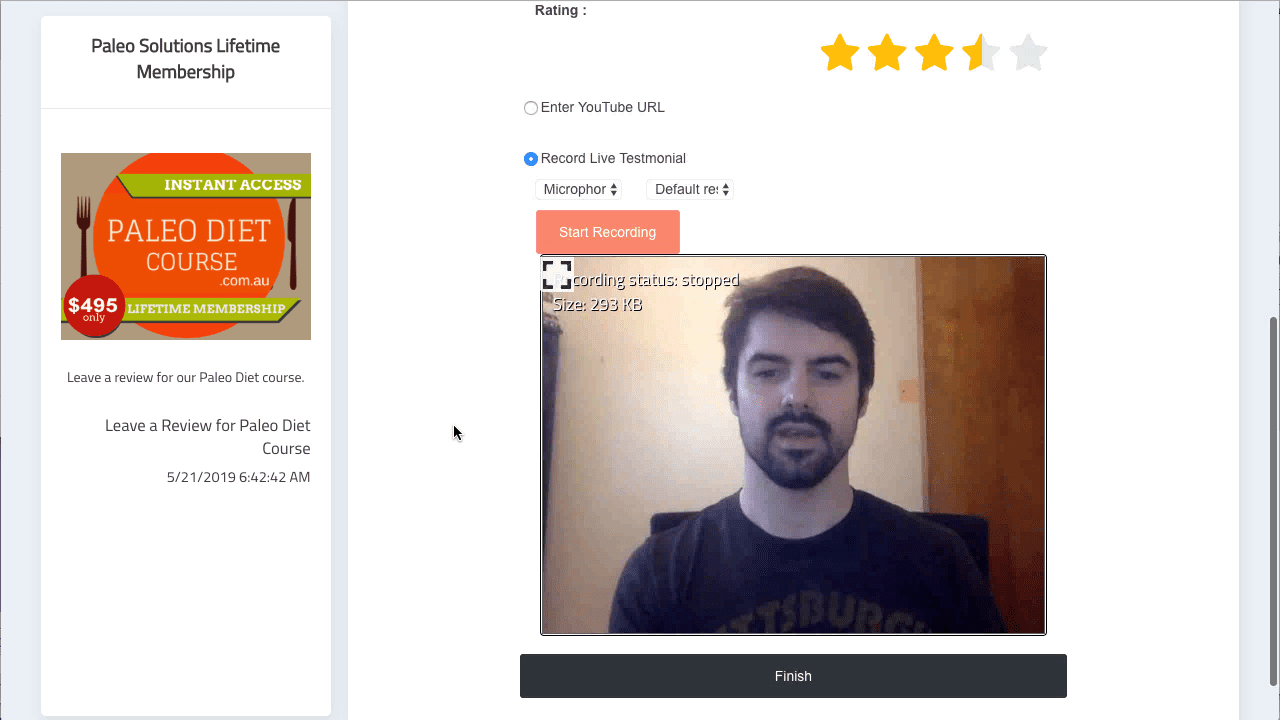 03.

Review and Testimonial and Edit the Video
Then, review the testimonial and edit it in the new Video Wizard. Transform it from a borning video to a solid marketing piece with custom CTAs, graphics, text, music and more you can share around the web.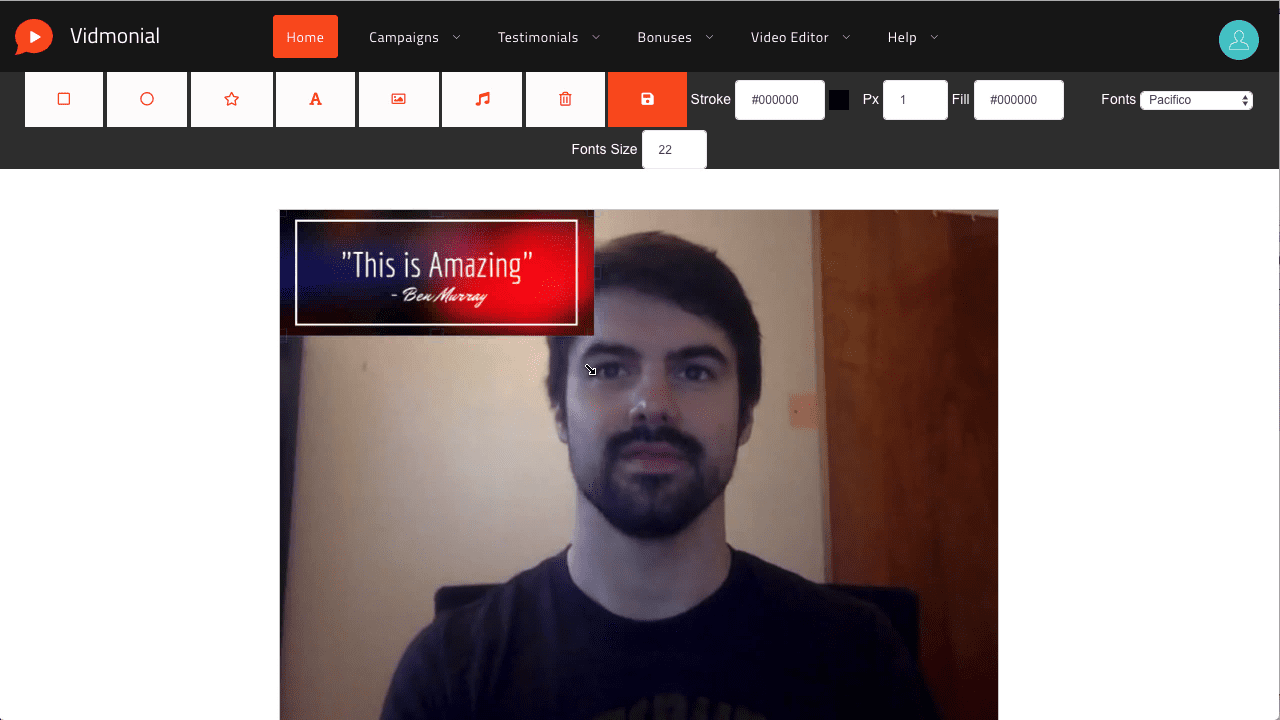 04.

Market the Video with Display and Widget Technology
Then, embed your video using brand new templates or showcase it, along with other similar product reviews on the new Vidmonial 2.0 Social Proof Widget to quickly begin increasing conversions.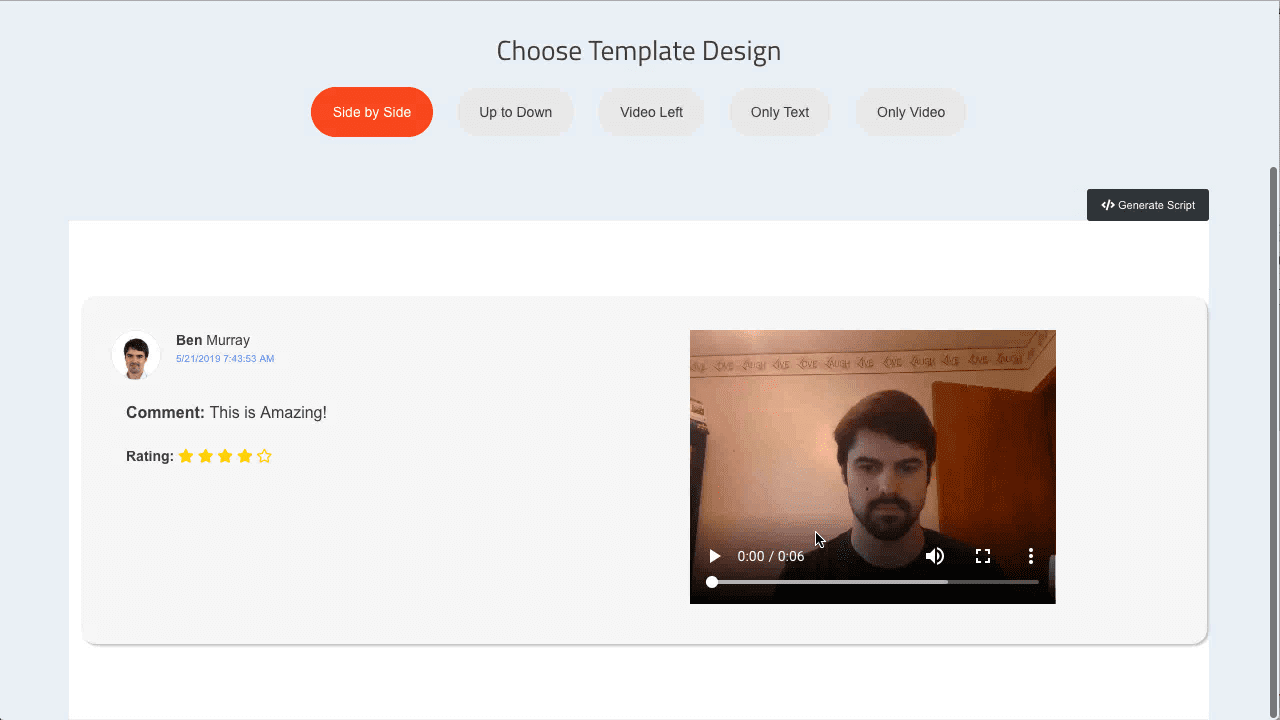 05.

Syndicate Around the Web for Traffic and Fresh Leads
In just a click, you can share the testimonial to tons of social networks for traffic and fresh leads. Now, instead of slaving away creating the videos yourself just have customers create them FOR you to use in your sales pages, blogs, Facebook ads, YouTube channels, and more.
Watch How Easy it is to Profit from Vidmonial 2.0 in this Demo:
Brand New Upgraded Features Include:
100% Compatible with Mobile
Our most requested feature is now available in the 2.0 version. Now customers can record Vidmonials on the fly using only their phone if they choose for much higher conversion rates and more authentic looking testimonials.
Simple Video Wizard Editor
Turn regular video testimonials into valuable pieces of marketing material that help generate traffic and sell products. Load any Vidmonial into a very easy to use video editor to add custom CTAs, graphics, background music, and more.
Text and Video Reviews Social Proof Widget
Collect text and video reviews all for a specific product and showcase them all-at-once in a customizable widget to skyrocket social proof and conversions.
More Video Display Options
Make your Vidmonials look AWESOME on any page you want with brand new video embed templates. Choose from 4 new ways to embed your testimonial so it fits your sales page style and layout.
Capture Only Video Reviews, Text Reviews, or Both
Just want to run a regular text review capture campaign? No problem. Choose if you want to capture only video reviews, only text reviews, or both with more advanced campaign options now.
DFY Customizable Bonus/Thank You Pages with Easier Bonus Access
Instead of just an email link, create a full bonus page that includes your promised downloaded as well as the opportunity to further interact and engage with the user who left the testimonial.
Syndicate to Many More Social and Video Networks in a Click
Now you can share your Vidmonials on far more social networks to drive traffic to your offers and build your brand.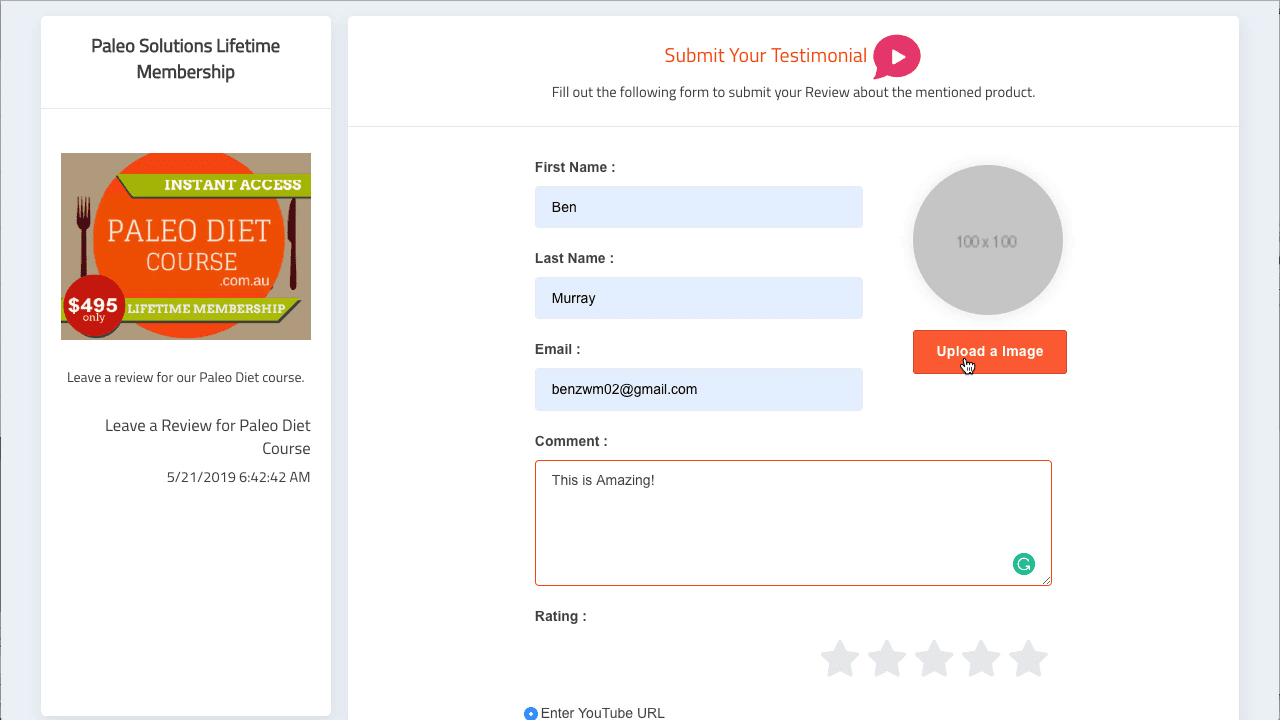 1-Step Mobile Video Capture Pages
Vidmonial 2.0 replaces the low converting 3-page video capture campaign with a single, fast loading page for much higher conversion rates.
Show/Hide Captured Testimonial
Got negative or unfair feedback from a customer? Learn how to improve your product by watching the video, then hide it if you choose in your Social Proof Widget campaign for high conversions.
And Even More Features:
Create "Set-and-Forget" Testimonial Generating Cloud Campaigns
Create campaigns fully hosted with Vidmonial that capture video testimonials and deliver incentives for doing so on 100% autopilot - nothing to install or code
Live Video Capture Technology
Let visitors easily record themselves giving the testimonial through campaigns fully hosted by Vidmonial 2.0.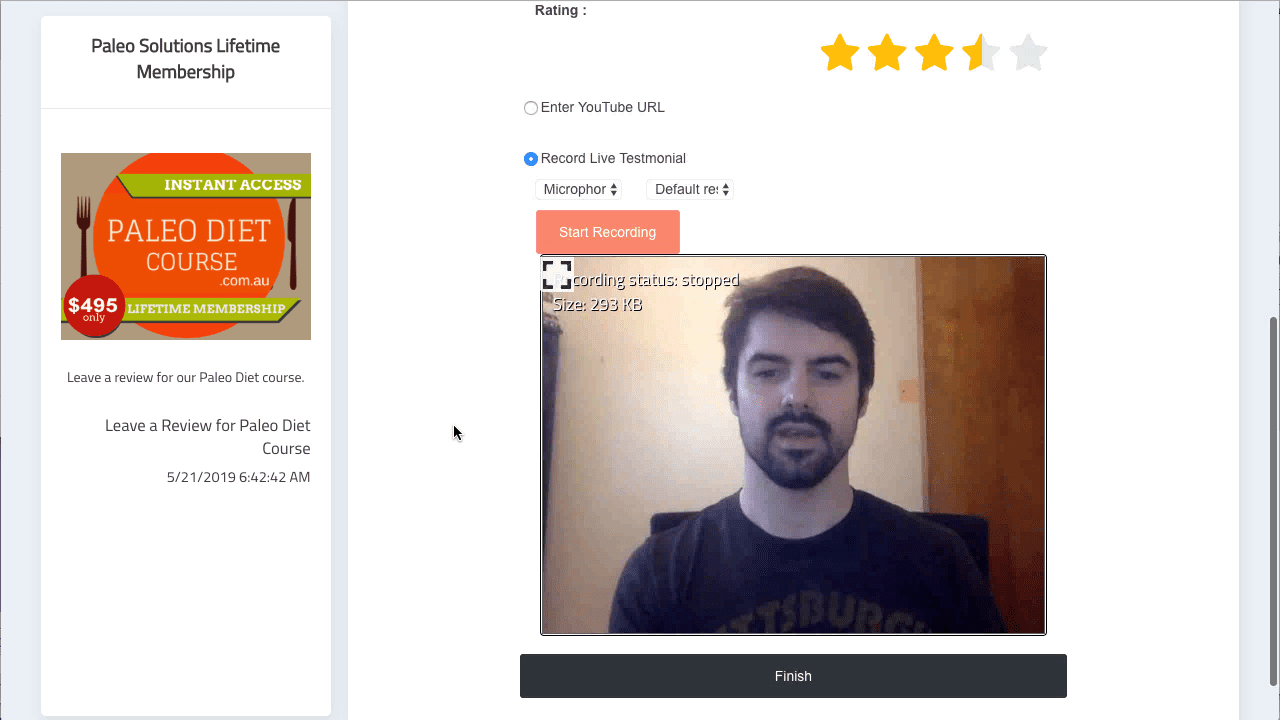 Display Video Testimonial Boxes Anywhere You Want
Showcase your video testimonials in stylish boxes on any page you want - works with Shopify, HTML, WordPress, Clickfunnels, etc.
Capture Star Ratings an Written Feedback
Along with video testimonials, capture star ratings, profile pictures, and written feedback to showcase for higher conversions
Commercial Rights to Sell a 100% Unique Service
This is an exciting opportunity, especially for users who have already bought video marketing apps since every business big or small needs more video testimonials.
BONUS #1.
Launching Soon Maintenance Mode Software with Resell Rights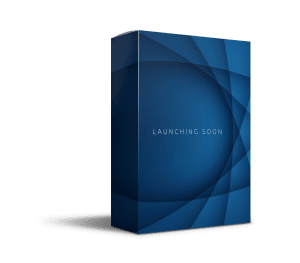 A Wp Plugin every business needs! Use this when launching a new business or putting your site in maintenance mode to capture visitors and build a list!
15 beautifully designed interactive coming soon templates pack
 Countdown Timer
Subscription Form Integration
Google Map Integration
 Fully Responsive

BONUS #2
Commercial Rights to Google Maps Creator

Simple, light-weight and non-bloated Google Map Plugin for WordPress.
Clients need maps of their store on their site and this is an EASY way to set it up fast for profits.
HIGHLIGHTS
Add Google Map API key
Adjust map canvas height and width
Responsive map, auto center map upon resize
Configure map canvas border color
Disable/Enable map controls
Find your location by typing address (Auto complete)
Disable dragging on mobile devices / touch enabled devices
Disable mouse wheel zoom
BONUS #3.
Premium Stock Video Collection
This big bundle of 100 Live Footage Videos were shot in full HD and are excellent quality. They show a huge variety of different scenes with people eating, shopping, cycling, enjoying their day and going about their daily business. Incorporate these into your own video projects, or videos for your clients.
BONUS #4.
Whitelabel Rights to 45 DFY Contractor Videos

Do whatever you please with these 45 pro 'offline' based videos. Rank them, rent them out, or sell together!
Includes niches like:
Air Conditioning, Cleaning Services, Carpenter, Gutter Contractor, Handyman, Heating Contractor, Hvac Contractor, and more!
Check out an example here:
BONUS #5.
Reseller Rights to Video Marketing Graphics Pack

Make Your Videos Look Awesome With This Brand New Set Of Premium Video Graphics!
If you do any sort of marketing online with videos, listen up! What I have for you on this page is a brand new set of graphics and templates that will help make your videos stand out and look awesome.
Video Marketing Graphics Pack is a collection of high quality templates and graphics elements specifically for making your videos look better and get noticed. You get graphics templates for both inside and outside of your videos.
BONUS #6.
Whitelabel Rights to Powerful Local Real Estate Theme
Get this proper real estate website that makes a customer's search as easy as possible. The design is intuitively understandable, and includes a  simple search box, showcase a wide range of the real estate items available and makes your agency look professional and trustworthy!
BONUS #7.
Giveaway Rights to Lightning Fast Video Ranking 2.0

Do you want to rank your videos in both YouTube and Google FAST without waiting for months for backlinks to take effect or relying on link spammer tools?
Here's a formula used by a super affiliate to rank lots of videos quickly (within days) for keywords in any niche you want! You'll see step-by-step how to optimize and rank your video for fast, targeted traffic in this new updated guide!
Plus, it comes with give-away rights so it's perfect to repurpose as your own 'lead magnet' to get video agency clients!
OTO BONUSES, GET ANY OTO OFFER AND GET ALL THESE VALUABLE BONUSES:
OTO Bonus #1
Commercial Rights to Viral List Builder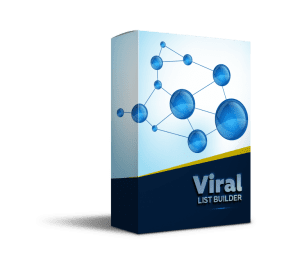 Use email opt-ins, slide-ins, pop-ups and social sharing to grow your business with this amazing viral list builder tool!
More Than Just an Opt-In Plugin
This is the ultimate online marketing tool for WordPress. Quickly setup email opt-ins, custom ad pop-ups and slide-ins, and floating social bars to drive results and create a following.
Catch Visitors with Smart Exit-Intent
This plugin comes packaged with exit-intent, a favorite of savvy marketers, that detects when visitors are about to leave your site and – BOOM! You can display a pop-up or slide-in to grab their attention.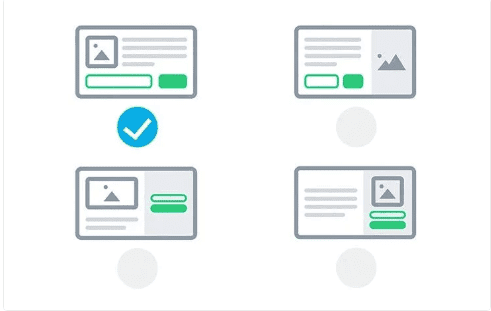 Adblock!? No Problem.
Promote your pop-ups and slid-ins even if Adblockers are out to foil your plans.
Use wit and charm to slip by ad detection and promote your list or share a special message.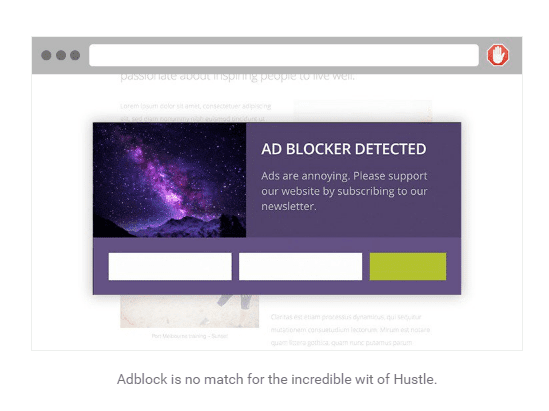 Go Big Time with Social Sharing
OTO Bonus #2.
Whitelabel Rights to Longtail Video Traffic Guide

Learn how to build a huge list and drive hands free traffic with this new guide from me.
You'll learn what longtail keyword research is, how it works today, the best techniques to find longtail keywords that will work for you, how to get traffic and links to your longtail content...
and far more!
OTO Bonus #3.
Envoke Twitter Quotes with Agency Rights
Easily add inline links that allow visitors to tweet selected snippets of your post content, with links back to the article. No need to remember a shortcode – we've integrated this with the TinyMCE editor so you can add the links just like any other link – Highlight the text and click a button to add or remove the twitter link. Its that easy!
URLs to the post will automatically use Twitter's URL shortener, and you'll also get proper "Via" linking if you provide your twitter handle in the settings.
OTO Bonus #4.
Resell Rights to Ultimate Background Image Collection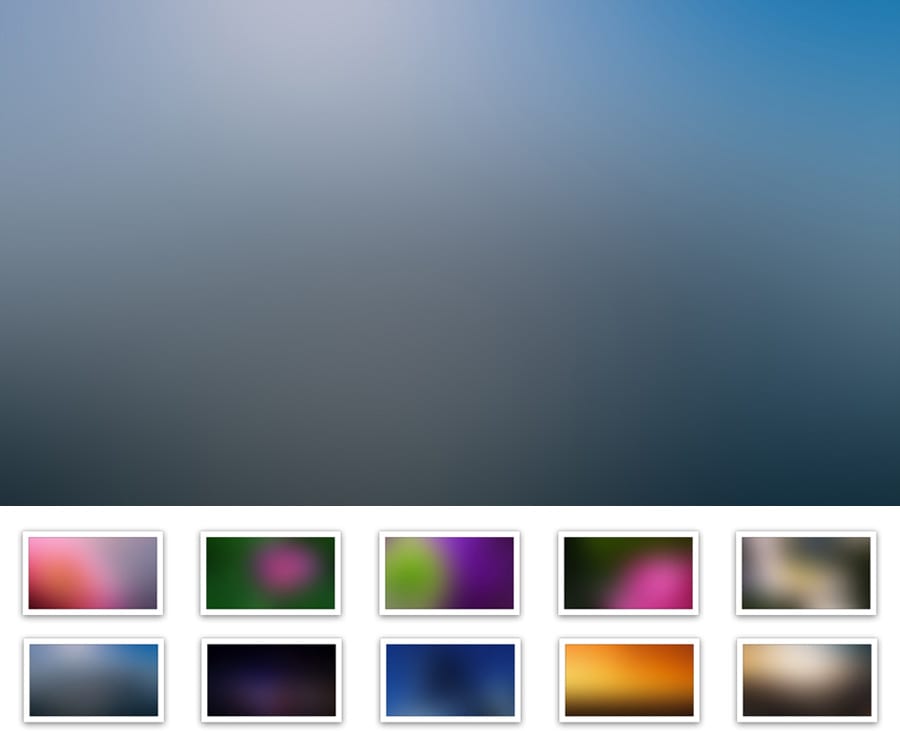 Get Access to Vidmonial 2 and All the Bonuses Now:
.
.
.
- All bonuses will be in your Vidmonial 2.0 Membership -